A Security Team You Can Trust
Gated Community Security Sacramento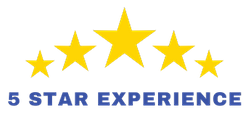 RC Security officers patrol entire properties, including all buildings, streets, pools, hallways, parking lots and any recreational facilities by foot patrol. This reduces criminal opportunity, burglary, prowlers, loitering, auto theft, vagrancy, and vandalism. Our gated community security Sacramento based officers will report all suspicious activities, vandalism and maintenance issues which includes graffiti, lights out, inoperable doors, locks, water leaks, property rules and code violations. Patrol reports can be provided by eMail, Fax or dropped at site at end of inspection. RC security is also available to provide clients with enforcement of general laws, your property rules & regulations, and respond to any tenant complaints, 24/7/365.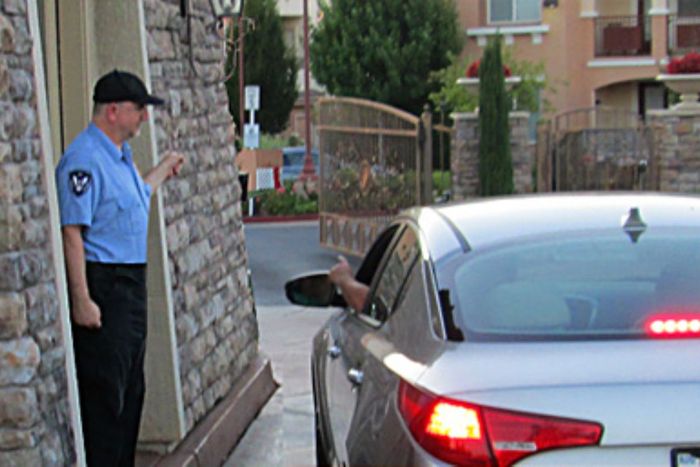 Gated Community Security Benefits
Gated community security benefits are among the primary factors of living in a gated community. A reduction in the level of criminal activity can be expected. Residents use cards to verify their entry while visitor's authorization is confirmed through a telephone call. People feel secure having fences and gates because it greatly lessens unauthorized vehicle and foot traffic on a property particularly late at night and during early mornings. Reduction of this type of traffic significantly reduces crime committed in the streets and parking lots. However, the effectiveness of fencing and gates is reliant upon the nature of the property and the people who manage the place. If the property is located on a high-crime area that is occupied by criminal types, gang members and drug dealers, then a gated community security is definitely a necessity to keep bad elements out. Nevertheless, gated communities may not be enough to prevent all crimes. It is simply a tool to help property owners fight crime. That is why hiring people for gated community security is vital to further ensure safety and protection of residents. A lot of people feel that raising a family in gated communities is the best way. They feel a sense of safety and form a sense of community with other residents. Because there is less traffic in the area, parents feel safe letting kids out of the house to play outside. Also people feel they know their neighbors better and are friendlier towards each other.
Kinds of Gated Communities
There are various kinds of gated communities which serve the same purpose of keeping unwanted individual out. The most common types are the following: Elite communities, lifestyle communities, and security zone communities. The main differences among these are the inhabitants. The elite communities are where the rich and famous reside. The primary focus for it is on status and exclusion with the gates representing a form of barrier of status from the people outside looking in. The lifestyle communities offer security and separation for leisure activities as well as the amenities that are offered exclusively. A retirement community is a good example of a leisure community, as are suburban planned communities or the so-called "new towns". A wide variety of activities, often including horseback riding, golfing, and other recreation, are usually enjoyed by residents in a lifestyle community. Then we have the security zone community where, unlike the previous two mentioned, this is gated by the residents themselves and not by land developers. You can find security zone communities often in inner city and lower income neighborhoods, especially where crime rates are high.
Gated Community Security Techniques
Primarily, the fences, gates, and walls are what protect these communities. On top of that, there are also video surveillance cameras employed as additional safety measures. Some even have infrared sensors, motion detectors, and armed guards. More affluent communities have helicopter and canine patrolling their surroundings. Such security measures are essential for the residents of gated communities and there are people who will spend a lot for their safety and protection. Neighborhood Watch is a technique that has been around for a long time wherein residents look out for one another and are vigilant at spotting suspicious activities and reporting crimes by calling law enforcement. Citizen patrols are made of volunteers who keep an eye around the neighborhood by walking or driving around an area regularly to report problems or incidents to the police. Their visibility has been proven to act as a deterrent to any criminal activity. Another way to help prevent crime in a community is via environmental design by removing damaged edifices, closing one street and making another a one-way street.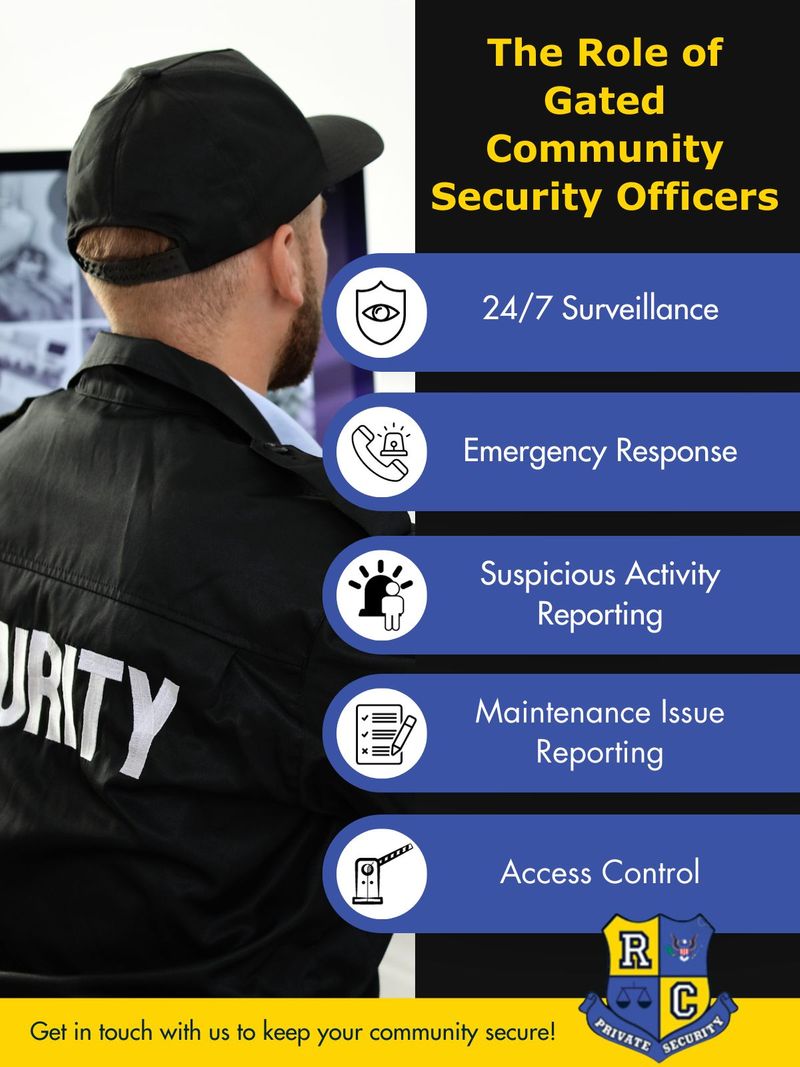 Gated Community Security in Sacramento
Who does not like living in a place where you can feel safe and secure? With gated community security in Sacramento that is customized to fit your lifestyle, one cannot deny the wonderful feeling of having peace of mind, as you are being protected by skilled and professional security officers. RC Security provides gated community security with officers, who can either be armed or unarmed, patrolling, surveying, and keeping watch on properties to include every type of building, alleyways and streets, swimming pools and recreation areas, hallways and parking lots. They do it via foot patrol to deter any criminal acts such as burglary, prowlers, loitering, auto theft, vagrancy, and vandalism. All suspicious activities, vandalism and maintenance issues are being reported by the security officers and security guards and these include any type of graffiti, lights out, inoperable doors, locks, water leaks, property rules and code violations. Consistent and regular reporting is done through eMail, Fax or dropped at site at end of inspection. As have been the case for years, RC security is ready to provide clients with enforcement of general laws, your property rules & regulations, and respond to any tenant complaints, 24/7/365.
What our customers are saying
extraordinary
RC Security Services is the only security company we entrust to handle our security needs at The Park Ultra Lounge and Mix Downtown. Whether it is the security of our facilities or when we call for service, their agents are always on time, their uniforms are impeccable and their customer service is extraordinary. Our staff and guests feel protected without feeling restricted and imposed upon. Right Choice is extremely reputable and able to provide you with security guards or protection agents for any reason. Many of their guards have been with them for years and we consider them as part of our team/company family.
John S. | Rating: 5/5
never felt safer
I am impressed with RC Security's excellent customer service. They are very helpful and always so accommodating with requests. When my husband and I moved to our new house, we felt wary and so we looked for the best Security Service Sacramento could offer. We found RC Security's competitive pricing which fit our budget perfectly. We have 4 kids and the security officers are really nice to them as well. The patrol guards are always on time and I find their work ethics very commendable. Mind you, under their calm and friendly demeanor, these are highly trained individuals. You can opt for armed or unarmed security officers from RC Security and for over a year now, we are glad to have chosen RC Security's private security services in Sacramento. Our family has never felt safer under their protection. Keep up the good work!
Amy R. | Rating: 5/5
professional
Six months has passed since we had the misfortune of getting our home burglarized when we were out on a weekend trip. We have always been relaxed with security since we've been living in our apartment for almost 10 years already. However, since that incident, we've looked into apartment security services in Sacramento and subsequently, because of a friend's recommendation, we got in touch with RC Security Sacramento. I gotta admit that we can now rest easy and sleep so much better knowing we have security officers patrolling the area and doing random checks to make sure everything's safe and secure in our surroundings. WE have a planned vacation coming up and I'm just glad to know RC Security will be there for us. The RC Security officers are very professional and I can tell that they have been trained really well. They are never sloppy and sometimes I even feel like a VIP with the way they treat and address us. A week ago a neighbor of ours actually came by and told us that they too are glad we got security service because since then, the reports of suspicious activities in our area have gone down. Everyone is really benefiting from the great work that RC Security is delivering. Great job as always!
Robin K. | Rating: 5/5