A Security Team You Can Trust
Call between 9am to 5pm or email to schedule your classes.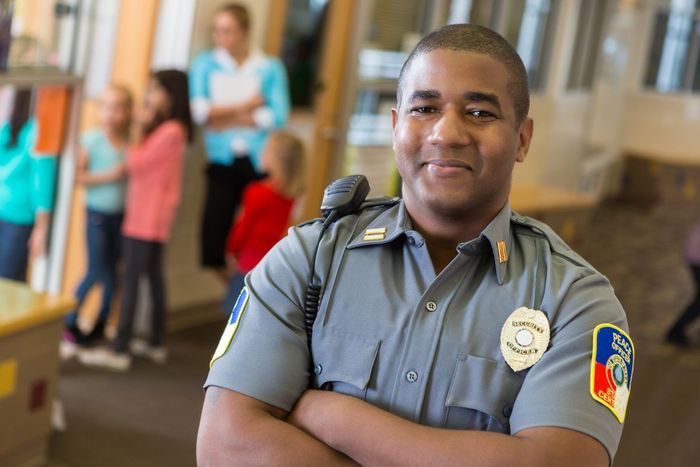 Phase 1
This course provides the necessary 8 hour security guard training.
It consists of 4-hours of required Power-to-Arrest training and 4-hours of required Weapons of Mass Destruction training.
The course is based on the CA Department of Consumer Affairs' Power to Arrest Training Manual, and the CA State Bureau of Security and Investigative Services (BSIS) course syllabus. All applicants in CA who wish to apply to become security guards are required by the BSIS to get trained in these subjects before they can submit their CA Guard Card Application.
Applicants must successfully complete this course and follow the required steps to apply for the CA Guard Card.
Phase 2
Every newly licensed or employed security guard shall complete two of the mandatory courses within thirty (30) days from the day the guard's registration card is issued (8 hours) or the day the guard begins employment.
A. Public Relations (Community & Customer)
Up to 4 hours
Recognizing Gender & Racial Harassment & Discrimination
Respect:

- Stereotyping

- Attitude

Verbal Skills / Crisis Intervention
Introduction to Diversity
Substance Abuse & Mental Illness
Ethics & Professionalism

- Appearance

- Command Presence

- Proper Conduct
B. Observation & Documentation
Up to 4 hours
Report Writing
English as a Second Language
Observation and Patrol Techniques
Asking Appropriate Questions
Observing Suspects / Suspicious Activity
Every newly licensed security guard shall complete a minimum of eight (8) hours of elective courses within thirty (30) days from the day the security guard's registration card is issued or the day the guard begins employment.
Work Place Violence
4 Hrs. Maximum
Detecting Unusual Behavior / Warning Signs

- Worker to Worker

- Client to Customer

- Supervisor to Subordinate

Anger Management
Valuing Diversity
Personal Security
Reporting
Trespass
4 Hrs. Maximum
Open Land
Private Property
Private Building
Public Property
Places of Public Accommodation/Public Access
Phase 3
The remaining two mandatory courses each consisting of four (4) hours of instruction, shall be completed within the first six (6) months from the day the guard registration card is issued or the day the guard begins employment as a security guard.
C. Communication and its Significance
4 hours
Internal

- Protocols Pursuant to Contract (Who to Contact & When)

- Radio / Monitors

- Other Technology

External

- Emergency / First Responders

- Medical Personnel

- Police / Sheriff / Other Enforcement

- City Services / Government Services
D. Liability / Legal Aspects
4 hours
Personal / Contractor / Employer
Criminal, Civil, Administrative
BSIS Code & Regulations
Role of a Security Guard
An additional eight (8) hours of elective courses shall be completed within the first six (6) months from the day the security guard's registration card is issued or the day the guard begins employment.
Supervision
4 Hrs. Maximum
Roles and Responsibilities
Legal Liability
Courtroom Demeanor
4 Hrs. Maximum
What our customers are saying
extraordinary
RC Security Services is the only security company we entrust to handle our security needs at The Park Ultra Lounge and Mix Downtown. Whether it is the security of our facilities or when we call for service, their agents are always on time, their uniforms are impeccable and their customer service is extraordinary. Our staff and guests feel protected without feeling restricted and imposed upon. Right Choice is extremely reputable and able to provide you with security guards or protection agents for any reason. Many of their guards have been with them for years and we consider them as part of our team/company family.
John S. | Rating: 5/5
never felt safer
I am impressed with RC Security's excellent customer service. They are very helpful and always so accommodating with requests. When my husband and I moved to our new house, we felt wary and so we looked for the best Security Service Sacramento could offer. We found RC Security's competitive pricing which fit our budget perfectly. We have 4 kids and the security officers are really nice to them as well. The patrol guards are always on time and I find their work ethics very commendable. Mind you, under their calm and friendly demeanor, these are highly trained individuals. You can opt for armed or unarmed security officers from RC Security and for over a year now, we are glad to have chosen RC Security's private security services in Sacramento. Our family has never felt safer under their protection. Keep up the good work!
Amy R. | Rating: 5/5
professional
Six months has passed since we had the misfortune of getting our home burglarized when we were out on a weekend trip. We have always been relaxed with security since we've been living in our apartment for almost 10 years already. However, since that incident, we've looked into apartment security services in Sacramento and subsequently, because of a friend's recommendation, we got in touch with RC Security Sacramento. I gotta admit that we can now rest easy and sleep so much better knowing we have security officers patrolling the area and doing random checks to make sure everything's safe and secure in our surroundings. WE have a planned vacation coming up and I'm just glad to know RC Security will be there for us. The RC Security officers are very professional and I can tell that they have been trained really well. They are never sloppy and sometimes I even feel like a VIP with the way they treat and address us. A week ago a neighbor of ours actually came by and told us that they too are glad we got security service because since then, the reports of suspicious activities in our area have gone down. Everyone is really benefiting from the great work that RC Security is delivering. Great job as always!
Robin K. | Rating: 5/5