Uniformed Security Officers
A Security Team You Can Trust
Uniformed Security Officers Sacramento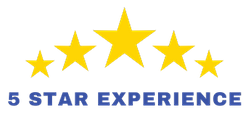 RC Security officers take pride in presenting a professional appearance. Our uniformed security officers in Sacramento wear a marked and highly visible professional security uniform. These are very engaged security professionals who have been selectively recruited, meticulously screened, professionally managed, and highly trained to deter incidents before they take place, respond to incidents as they happen, and most notably, provide exceptional customer service. In addition to protecting the area they are assigned to, our uniformed security officers observe all areas and report unusual incidents. They maintain a physical security presence on the site and interact with customers as necessary to ensure safety and a pleasant experience. They are trained to utilize their senses of urgency in order to respond to all emergency situations and monitor daily activity on site making sure policies and procedures are upheld. RC Security uniformed security officers are well-supported and trained to carry out specific duties as required by the client.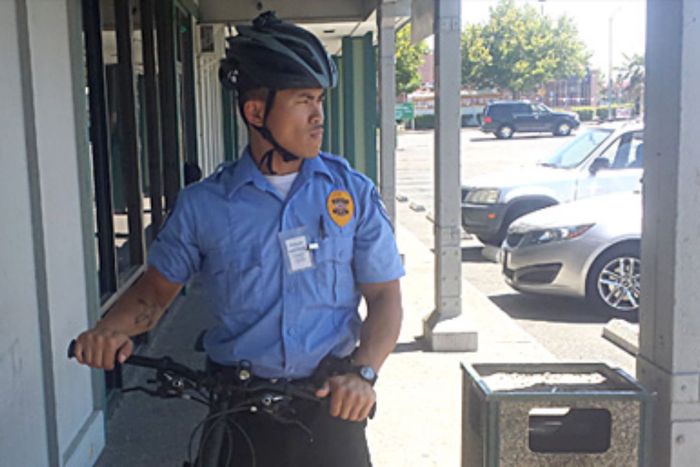 Uniformed Security Officer Benefits
RC Security uniformed security officers provide excellent protection services that include providing a substantial deterrent to criminals and inappropriate activity committed at the area of assignment. They also observe all activities and report any criminal or inappropriate goings-on to the proper authority. They are very competent when it comes to documenting all relevant information at the job site. It is a well-known fact that all uniformed security officers will enforce safety policies, will be decisive against safety hazards, will safeguard all property safety equipment, and will take proper action in the event of an emergency. Furthermore, within the limits of local and state law, RC Security uniformed security officers will take all the necessary steps to protect individuals and property, as well as apprehending suspects and using lethal force as needed. Duties may be customized for your specific location to include barring doors and locking gates at certain times, checking in visitors and vehicles and to conduct searches if requested, as well as other security-related activities that a client requires.
Uniformed Security Officer Methods
There are several kinds of uniformed security officers. They may be armed or unarmed, wearing low profile or high visibility uniform. RC Security understands that uniformed security officers do more than protect your assets; they also serve as representatives of your brand. That is why they strive to maintain a neat and professional appearance to represent you best. With professionally attired security officers who command respect from the community, RC Security has the goal of providing the best possible security personnel for all clients. Most security officers hold law enforcement and/or military backgrounds. Their professional security experiences are augmented by a comprehensive training so they can perform better on all their duties. RC Security continues to provide the best service to clients with the requirement that all security officers be always dedicated and professional at all times. In addition to uniforms, they use only the best and modern equipment and gear for the job. With their commitment to provide specialized service, RC Security uniformed security officers in Sacramento are issued only the best hardware available.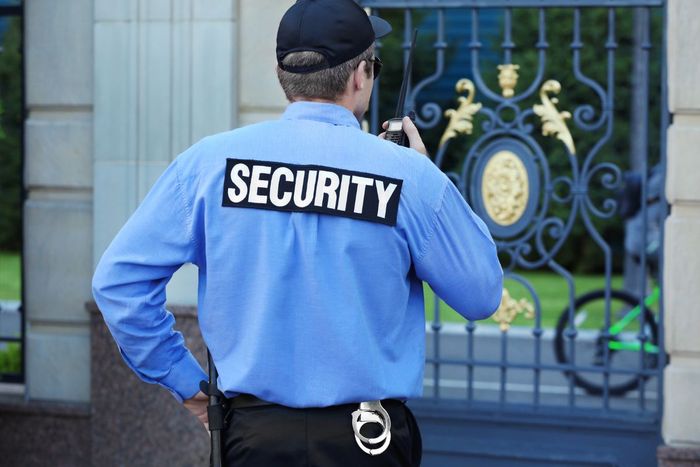 Uniformed Security Officer Training
RC security officers are required to complete an 8 hour security guard training course before they can apply for the CA Guard Card, as well as complete 2 mandatory courses for each newly licensed or employed security guard. They also take 8 hours of elective courses for further training so that each one of RC Security's uniformed security officers can function well in stressful situations and can demonstrate reliability and communicate well. The extensive training program include instruction on public relations, observation & documentation, work place violence, trespass, communication and its significance, liability/legal aspects, supervision, and courtroom demeanor. After completing the training program, security officers will have the additional skills and confidence to fully comply with the client's contracted service requirements.
Uniformed Security Officer Services
RC Security uniformed security officers are skilled on theft and/or loss prevention; public safety, law and order; patrolling and inspecting; access control and crowd control; hazard detection and safety; responding to emergency situations; and reporting and documenting incidents. Areas that they protect include residential and gated communities, construction sites, retail stores, and commercial business establishments. Our uniformed security officers are professionally attired because RC Security knows the importance of a professional image. More often than not, uniformed security officers are the individuals with whom your clients or visitors first come in contact when they arrive on your property. Thus, it is essential that security officers need to be uniformed and presenting a professional appearance as they act to protect your property, assets, employees, and guests. These expertly trained and motivated officers also provide distinctive and customized services while maintaining a highly visible presence at your facility. RC Security uniformed security officers display a powerful presence and project the professional image that a lot of businesses demand. They are skilfully prepared to meet the various challenges at any given time and place.
Uniformed Security Officers in Sacramento
Because RC Security uniformed security officers in Sacramento display authority with appearance, professionalism and customer service, clients are assured of a highly visible deterrent to reduce theft, vandalism, violence or property destruction in their area. Combined with our marked vehicles and patrols, security officers establish and maintain a safe environment not just for businesses but also for homeowners, tenants, employees, and customers. Through our extensive training program, our uniformed security officers are guaranteed to provide excellent service for your security assignment. As a leading provider of uniform security services in Sacramento, RC Security provides fully licensed, highly skilled and trained security officers, both armed and unarmed, for all retail, commercial, industrial, and residential clients' security needs. RC Security continues to raise the standards of the security industry in California.
What our customers are saying
extraordinary
RC Security Services is the only security company we entrust to handle our security needs at The Park Ultra Lounge and Mix Downtown. Whether it is the security of our facilities or when we call for service, their agents are always on time, their uniforms are impeccable and their customer service is extraordinary. Our staff and guests feel protected without feeling restricted and imposed upon. Right Choice is extremely reputable and able to provide you with security guards or protection agents for any reason. Many of their guards have been with them for years and we consider them as part of our team/company family.
John S. | Rating: 5/5
never felt safer
I am impressed with RC Security's excellent customer service. They are very helpful and always so accommodating with requests. When my husband and I moved to our new house, we felt wary and so we looked for the best Security Service Sacramento could offer. We found RC Security's competitive pricing which fit our budget perfectly. We have 4 kids and the security officers are really nice to them as well. The patrol guards are always on time and I find their work ethics very commendable. Mind you, under their calm and friendly demeanor, these are highly trained individuals. You can opt for armed or unarmed security officers from RC Security and for over a year now, we are glad to have chosen RC Security's private security services in Sacramento. Our family has never felt safer under their protection. Keep up the good work!
Amy R. | Rating: 5/5
professional
Six months has passed since we had the misfortune of getting our home burglarized when we were out on a weekend trip. We have always been relaxed with security since we've been living in our apartment for almost 10 years already. However, since that incident, we've looked into apartment security services in Sacramento and subsequently, because of a friend's recommendation, we got in touch with RC Security Sacramento. I gotta admit that we can now rest easy and sleep so much better knowing we have security officers patrolling the area and doing random checks to make sure everything's safe and secure in our surroundings. WE have a planned vacation coming up and I'm just glad to know RC Security will be there for us. The RC Security officers are very professional and I can tell that they have been trained really well. They are never sloppy and sometimes I even feel like a VIP with the way they treat and address us. A week ago a neighbor of ours actually came by and told us that they too are glad we got security service because since then, the reports of suspicious activities in our area have gone down. Everyone is really benefiting from the great work that RC Security is delivering. Great job as always!
Robin K. | Rating: 5/5